CLS 460 Teaching Internship: Surge Mentors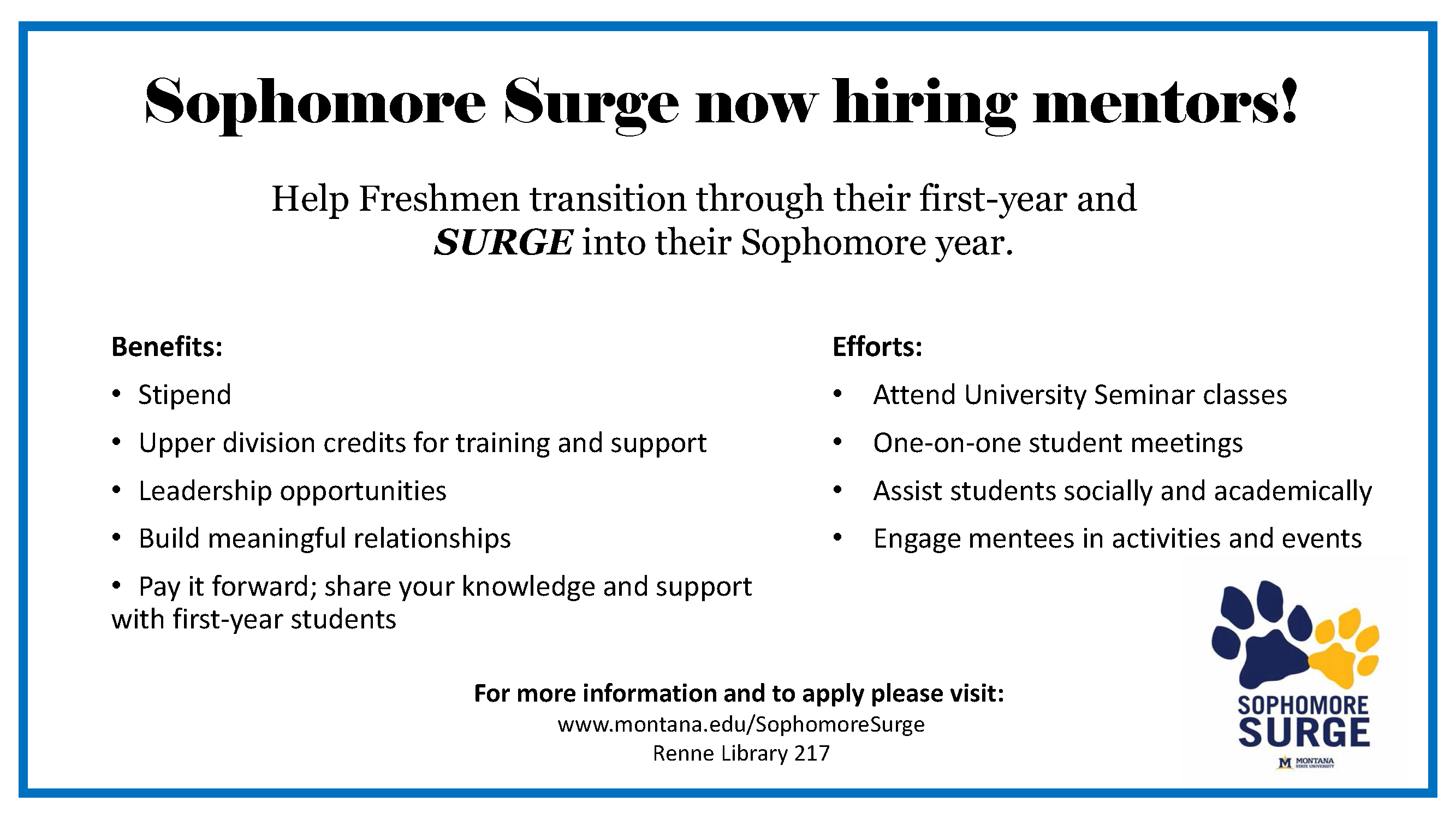 Overview:
The purpose of the CLS Seminar Surge Mentor (CLS 460: Teaching Internship) is to provide mentors with an exciting and challenging opportunity to guide them as they expand their intellectual interests, learn about various resources on campus, improve their critical thinking skills, and enjoy conversation in a community of learners. Your role is to work with the assigned instructor to help CLS 101 students grasp and connect to readings, understand campus and community resources available to them, and discuss, analyze, present on, and write about the course texts. These texts cover a wide range of topics such as philosophy, injustices, morality, and humanity, and incorporate a plethora of genres from poetry to scholarly articles and research. The main course themes are knowledge, identity, and community.
You are the facilitator for involving new students in university life and in college level learning through reading, thinking, and dialogue. You alongside the instructor will help challenge students to think and communicate in a small group setting while developing critical listening skills and honing their writing abilities. Books and course materials will be provided to CLS 460 mentors free of charge for the semester. Please know as well that CLS 460 is one of the electives that counts towards an MSU Leadership Fellows Certificate.
an MSU student in their 2nd year or higher
Successful completion of any University Seminar (US) Core
Good academic standing
Completion of online application which includes contact info of two (2) references from the MSU community
*Note: Surge Mentors do not enroll in the CLS 101 course they are a Mentor for, but they do attend every class meeting for their designated section of the seminar.
Read about the time commitment and benefits of being a Sophomore Surge Mentor here:
CLS 460/ Mentoring Course Goals:
Learn and practice mentoring skills under the guidance of Sophomore Surge instructors, facilitators, team leaders, and campus resource administrators, to:

Answer student questions about MSU and university life
Be available to coach students having difficulty in the classroom, in college, and/or in life
Guide students toward the improvement of their written and oral expression
Complete a final project involving a reflection of your mentoring role
Under the guidance of your assigned seminar instructor, you will learn and practice leadership strategies within the classroom, and will facilatate one pre-determined class. You will:

Help develop discussion questions that are thoughtful and related to the text
Initiate conversation that is exciting, intellectual, and textual
Guide conversation toward scholarly, diverse, and constructive questions and topics
Enforce standards of critical thinking and presentation of textual and other evidence in the classroom
We are here to help
We understand that mentoring a class can be a challenge! As part of CLS 460, you will be meeting about weekly with other mentors and program facilitators to go over key concepts, crisis training, and mentor/ leadership training, along with your assigned instructor to plan out future classes. You'll also attend fun and thought provoking meetings to discuss course texts, themes, and activities that can be incorporated prior to actually implementing these ideas with your freshmen, as a practice run of sorts. In a relatively short time, you will get to know your fellow mentors, mentees, instructors, and program administrators, and will have a team around you who can offer assistance and guidance to you along the way.
Read more and *apply* to be a CLS 460 mentor/ Sophomore Surge Mentor here
Read more and *nominate* a student to become a Sophomore Surge Mentor here. We will reach out to nominees with more information and explore if they'd like to pursue the opportunity.